Turtleson - Not your Dad's golf wear
Meet Turtleson, a brand inspired by the rhythm of their hometown. Rooted in Bristol, Tennessee, they live, work, travel, and play at a energetic & fun pace. On the golf course, at the office, downtown, or out-of-town, they believe setting your own pace inspires comfort and confidence. That's why they are intentional about designing clothes and accessories that are adaptable to fit your speed, your life, your style, your pace...
FROM LINKS TO LIFE WITH TURTLESON
Discerning gentlemen know what they want in life — or at least know it when they see it. Look no further than the attire he wears. His confidence just isn't instilled from life's adventures. That swagger also comes from his wardrobe. It's been said if you can be comfortable in your style, you're confident in your performance.
It probably has something to do with the styles that pop or how they hold up after 18 holes. Transitioning fresh from the 18th hole to dinner or back to the office cannot be overstated. "Designed for style, built for performance" is one way to put it.
Turtleson is dedicated to the man with many pursuits. The perfect assortment of Turtleson's gear is for all occasions in every season. Scrutinizing every detail of manufacturing ensures quality in fit and finish. Performance, Travel and Lifestyle are Turtleson's three pillars. What else do you need in life?
The key to their performance is the polyester/spandex blend, which provides the moisture management, increased air flow and range of motion you'll need to be confident on the course.
Perfect for Texas and Houston weather and climate!

❖ Spotlight on Turtleson Performance Polos
THE CARTER STRIPE PERFORMANCE POLO
This classic stripe is anything but boring. Made in a comfortable stretch fabric that comes in a variety of colors. Making it one of our go-to pieces.
Turtleson Perfromance Polos feature thin stripes and bright new colors; they are sure to become favorite everyday polos.
❖ Self-Fabric Collar
❖ Applied Arrow 3-Button Placket
❖ Short Sleeve
❖ Moisture Wicking, Quick Dry Finish
❖ 92% Polyester, 8% Spandex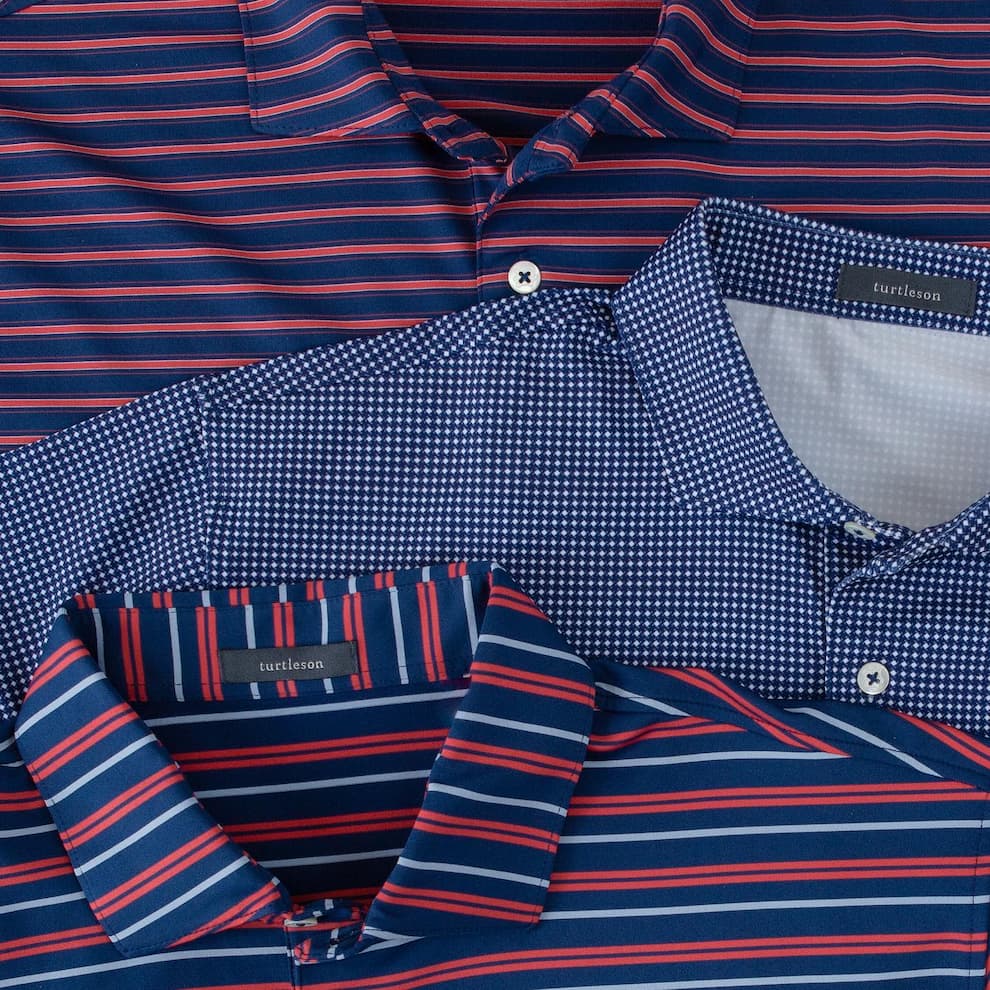 Every season we interact with the world's leading designers to bring the best men's clothing to Houston and Texas. We promise.
-
Bill Walker Team